Simple, Intuitive Analog Mixer for Nearly Any Application
Ideal for live sound reinforcement in very small venues, band practices, and home or project studio recording, the
TrueMix 500
from
Alto Professional
is a 5-channel analog mixer with a portable form factor and stereo USB recording functionality. One mic preamp and phantom-powered XLR input are provided, along with a Hi-Z instrument input as well as two stereo line input channels for keyboards and similar sources, all sporting 2-band shelving EQ control, pan, volume, and gain controls.
The TrueMix 500 also includes an RCA-based 2-track input with a dedicated gain knob as well as a 2-track RCA output, and you can utilize two buttons to either send 2-track/USB input to the main stereo 1/4" output, or to the 1/4" headphones output. This mixer includes a power supply and a USB-B to USB-A data cable to get you started.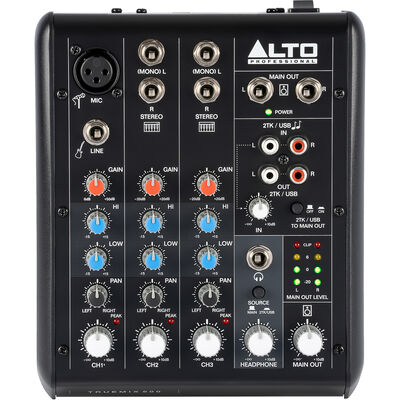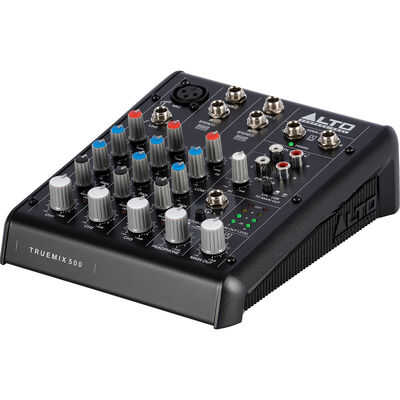 The TrueMix 500 sports just the right amount of I/O for its size, easily accommodating home recording or live sound reinforcement in small spaces.
XLR input with low-noise mic preamp, plus a high-impedance 1/4" instrument input on the same channel
Two channels of stereo, balanced 1/4" input with the same EQ, gain, pan, and volume controls as channel 1
A balanced 1/4" stereo pair for the main output, ideal for monitor speakers or PA systems
RCA 2-track input and output, unbalanced
1/4" headphone output which supports 160mW into a 32-ohm load
USB-B terminal for stereo digital recording and playback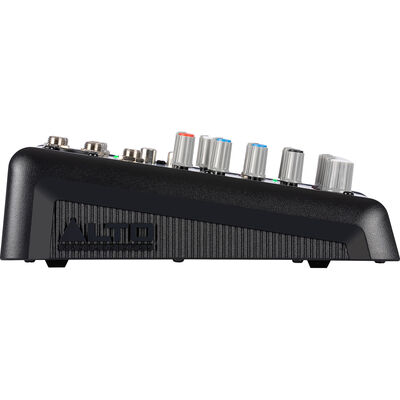 Portable, Compact Form Factor
The chassis of the TrueMix 500 is small and portable, easy to place on any desktop or to take with you to gigs. Weighing in at only 2 lb, this mixer will never feel burdensome and can fit into tight, crowded workspaces.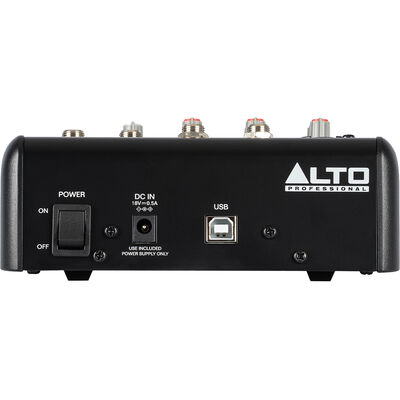 The USB port allows the TrueMix 500 to also be used as a 2-channel interface along with its mixing duties. Stereo recording to a computer (Windows or macOS) is quick and simple, and you can playback your multitrack productions from your DAW as well, allowing you to monitor through your headphone jack or studio monitors.